Developing a connection between a brand and a consumer takes more than a product or a logoed giveaway – it requires an understanding of the consumer's demographic, the desired outcome, the messaging and the use. At Bradley, we understand how to deliver your message in a way that resonates with your target market.
Branded items are usually thrown into the marketing mix last minute – it is our job to support you in reinforcing your marketing campaign with products that will be admired, enjoyed and remembered.
We leverage branded merchandise to create connections and establish brand awareness and loyalty – both internally and with customers. As experts of our industry, we understand what people want, what tools to use and how to deliver your message most effectively.
​
Promotional Products & Giveaways
Effective promotional products and giveaways create long-lasting engagement leaving a positive impression with your customer. PPAI studies found that after receiving a branded product, around 85% of consumers were found to do business with the advertiser. Ultimately the products you choose are a reflection of your brand. We take the time to understand your marketing objectives and offer fresh ideas to achieve them. Whether you're hosting an event, displaying at a tradeshow, or giving a gift as a thank you, we offer infinite options of products that will resonate and keep you top-of-mind.
Corporate Apparel & Uniforms
You only have one chance to make a first impression. Internally, corporate apparel fosters a sense of unity and promotes a team-oriented spirit. In the market place, corporate apparel offers an opportunity for brand recognition. At Bradley, we create corporate apparel and uniforms to best reflect who your company is and reinforce what you are about. With a multitude of options available in various styles, price points, fabric and fit, we develop a corporate look for organizations of all sizes, in all industries and various lines of work.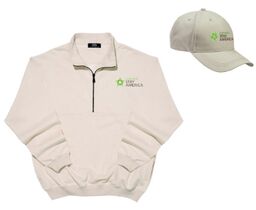 Direct Mail
Direct mail is a cost-effective way to reach new and existing customers. For years this has been an effective marketing tool and our capabilities take the benefits of direct mail and infuse them with personalization and customization to better connect with your target audience. At Bradley Company, direct mail is taken to the next level as we help you capture your customer's attention and compel them to take action. From simple postcards to sophisticated variable data printing mailers, we handle it all from design to database management to delivery.
Signs & Displays
Your window of opportunity to grab a customer's attention is brief. We use our expertise to help you create eye-catching, unique displays and signage to captivate your audience, making them remember YOUR brand. Our capabilities span from basic printed products such as brochures, business cards, and folders to bigger and more specialized items such as banners, tabletop displays, window clings, magnets and tradeshow displays.
Safety Merchandise
The safety and compliance of products is a top priority for Bradley and we recognize the importance of safety for our clients and their employees and customers. We offer merchandise and uniforms for your employees working in various setting and conditions to be highly visible and protected. Some of our safety merchandise includes reflective vests, hard hats, gloves and safety goggles, all of which can be branded to reflect your company's logo.
Invitations &
Greeting Cards
Whether an invitation to spark interest in an event, express emotion with a thank you card, greeting card, or spreading seasons greetings with holiday cards, we help you convey your message for the appropriate occasion.
Kits & Products Packaging
According to Business Insider, first impressions generally take about 7 seconds. Packaging and presentation of a product can further influence brand recognition and awareness for your company. We will help you design, create and take it to market. We offer kitting services, allowing you to create customized combinations of products. We combine, assemble and package kits for numerous projects including specialized target marketing, corporate gifts and mass mailing campaigns.
warehousing & fulfillment